Remember how our primary teachers made us learn how to write leave letters back in school?
Well, all of that grind was for a reason! In working environments like corporate offices, government offices, etc., it's considered essential to submit your leave application in written/e-mail format before you take your break from work.
Here's your guide on how to write a leave application for the office, which includes everything from leave letter format to writing tips for leave letters for the office.
What is a Leave Application Letter?
Writing a leave application letter to your employer/boss/manager is a professional way of informing you about your absence from work for a specific period.
Writing a good application increases your chances of your leave request getting accepted. The content and the way it's written decide whether your request gets accepted or denied.
We all have days when we need to get out of our busy working schedule for numerous reasons and give ourselves a break. Hence it becomes crucial to inform your manager or boss prior to your leave dates. There are specific rules to be followed while writing the leave application letter to make sure it's formal, decent, and has all the required information.
Why is it Important to Write a Leave Application?
Most notably, taking leave without informing your supervisors puts everyone in the office in serious trouble. So you must keep them informed about your absence. It helps the others working in the office to prepare beforehand and share the workload on that day.
Also, when you write a leave application to your boss, it depicts your character as a professional and a punctual individual. Hence automatically, it puts you in the good books of your boss. So be ready to accept a raise pretty sooner than your other colleagues.
Also Read: How to Answer: Why did you Leave Your Last Job?
Types of Leave Letter Applications
There are numerous types of leave letter applications seen in offices, depending on the reason behind your leave. Here's a list of a few of these letters and when they are applicable:
Sick Leave – On one of those days when you wake up and instantly know that you won't be able to make it out of your bed due to illness, you write this Sick Leave Application to your employer.
Maternity Leave – There comes a time in every professional woman's life when she applies for a Maternity Leave. This is when she is expecting a baby or has just conceived. This kind of leave should be pretty much applied beforehand.
Vacation Leave – We all need short breaks from our busy, hectic life to spend some quality time with our loved ones away from the hustle-bustle of the city. Vacation Leave, as the name states, is taken when you are off on vacation.
Casual/Personal Reasons Leave – Casual or personal reasons leave application written on days there is some family function you attended or some other issue you got to address.
Annual Leave – These leave applications are written when one requires to leave on a long-term basis. It is better to inform the office well in advance about these kinds of leave.
Paternity Leave – Paternity leaves are taken by husbands when their wives are either in the final stages of pregnancy or have just conceived a baby. The number of leave days must be clearly mentioned beforehand.
Emergency/One-Day Leave- In cases of immediate urgency, these leave applications are given on short period notice. Be it some family members' poor health condition or emergency out of station call, we all have our issues to attend to.
Leave Application Format
Here's a detailed leave application format for employees that can be used while writing for their boss or manager in offices. The leave application format for the office requires certain features and points to be included in it.
Salutation
Purpose of the application
Reason for leave
Number of leaves needed
Work plan during your absence
Contact information
Signature
Format for Leave Application Letter
What to include in a leave application for office?
Here's a detailed list of things you should add to your leave application letter to make your leave request get accepted instantly. Below is the leave letter format for offices:
Receiver's Name & Address: Adding the name and address of the person to whom the letter is being addressed comes first.
Subject Line: The subject matter is written here as 'Leave Application,' and other required details are added (if any necessary).
Salutation: Here, mention the individual's name and use only the first title to identify the person.
Body of Letter: In this section, mention the cause of leave in your letter, the number of days you wish to take leave, and the person who will handle your workload while you are off.
Thank You Note: Thanking the authority concerned for acknowledging the leave is crucial.
Complimentary Closing: The closing you add has to be thoroughly professional and clean.
Name: Write down your full name.
Job Position: Mention your designation/job title at the end of the letter. This step is optional but makes your letter look very professional.
Date: Add the date on which you submit the letter.
Format for Leave Application Mail
What to include in a leave application for office in email format?
While you write your leave application mail to your boss, here are certain things you must not forget to add in your mail.
Subject Line: Similarly, like in the letter format, add 'Leave Application' as subject and mention other necessary information.
Salutation: Mention the recipient's name.
Body of Letter: The body of the letter contains the reason for your leave, duration of absenteeism at work, name of the
colleague who will handle your portion of work in your absence.
Thank You Note: Thanking the reader at the end is a mark of courtesy, so do it without fail.
Complimentary Closing: Add a formal complimentary closing at the end of the mail.
Name: Mention your full name.
Job Title(Optional): This is seen as an optional step but mentioning your designation is preferable any day.
Also Read: Asking for leaves this holiday season? Here's how to go about it
Samples for leave application for office
Below are a few samples to enhance your leave application writing skills. There are different examples below to make you understand how various leave application letters/emails are written for offices.
1. Annual Leave Application:
These leave applications are written when one requires a year or months-long break from work. There can be various reasons why one would want to take a yearly break, as it could be for pursuing some higher education, marriage, other work-related reasons, or any other personal reason.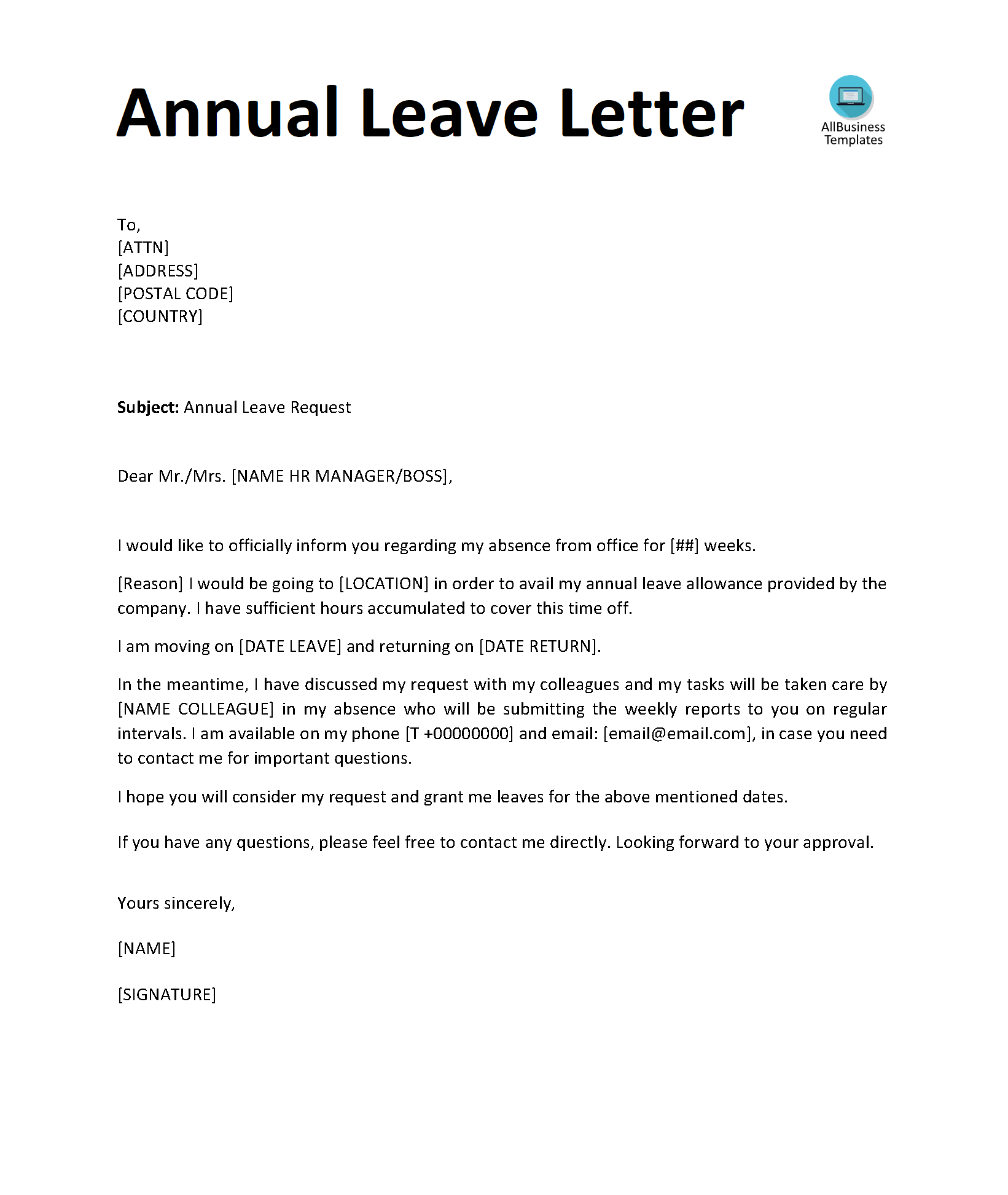 2. Sick Leave Application:
These letters or emails are written when you need leave from the office when you can't work due to illness. It is necessary to write about the cause of illness and how long it would take for your recovery. Some offices make it mandatory to attach hospital bills as proof for your sick leave application.
Different companies have various protocols to be followed while asking for sick leave. These kinds of leaves are usually covered under the sick leaves provided by the company leave policy.
3. Vacation Leave Application
Vacation or Casual Leaves are taken when you need a break from the office. Taking an off from work once in a while also helps increase productivity, and that is why the company provides a certain number of days in a year as casual leave days under its company leave policy. The below-given format must be followed while writing your leave application letter/mail to your manager.
4. Maternity Leave Application:
These leaves are taken when a woman is in her last stages of pregnancy or has already given birth to a child. Every organization has specific protocols to be followed under maternity leaves. It has to be informed well in advance about maternity leave as it takes off from long-term work.
Apart from women, men also take leaves to take care of their newborns, categorized as paternity leaves. As seen below, this is the format of leave application for maternity leaves taken in office.
There are numerous other types of letters like emergency leave, one-day leave, half-day leave, personal reason leave, etc. You need to follow the same format as mentioned above irrespective of whether it is a written letter or a mail. And the fundamental aspects remain the same for every kind of letter except the cause.
Also Read: 7 time-saving secrets to help you leave office on time
Dos and Don'ts
| | |
| --- | --- |
| DO'S | DON'TS |
| One must use appropriate language and make the outlook of the letter/mail professional. | Don't use informal language while writing your leave application letter/ mail to your manager/boss. |
| Write the recipient's address directly at the beginning of the letter. | Don't insert headings such as To and From before writing the sender and receiver's address. |
| Always thank the recipient at the end of the letter. | Don't forget to mention the number of days and the particular dates you wish to take off from work. |
Writing tips for Leave Application for the office
Leave from the office is something all of us love but are hard to get. So here are specific tips that can be used in your leave application letter/mail to make sure it gets accepted.
As mentioned above, the language of the letter must be appropriate and must look professional enough.
Apart from the language, the tone in which the letter is written matters the most. It would help if you sounded polite and grateful while asking for leave from your manager.
Make sure you mention how you plan to complete your pending work after returning from your leave so that your boss/manager is not reluctant to grant your leave.
Don't forget to thank your higher authority at the end of your leave application letter to the office.
Company Leave Policy
Every company has its leave policy for its employees at different levels in the organization. The company has to form policy rules abiding by the laws set by the government. According to the policy, a certain number of leave days and sick leave days in a year must be provided to the company's employees. So while writing your leave application, make sure you are not violating your organization's leave policy; otherwise, it will ultimately get rejected despite how good your letter is.
Conclusion
Writing a good leave application letter to your boss is a crucial skill everyone needs today. It is essential to know what to write and what to include in your mail or letter for your request to get accepted. Staying as polite as you can is the secret of winning a leave from your boss. So, I hope this guide will help you and provide in-depth insight on writing a leave application letter!
FAQs
Q1. Can anything be written on the right side of the letter?
No, the standard format is to write everything on the left side of the letter.
Q2. What should be written at the end of the leave application letter/mail?
The end of the letter must include an acknowledgment to the reader and the sender's name.
Q3. Where should the date be mentioned in the letter?
The date of the letter can be mentioned before the salutation in the letter.
Q4. Should the sender's details be added to the letter or mail?
Yes, the sender's details must be added to the letter or mail at the end. It is important to mention your name and designation while writing your leave application for office.
Q5. Is it necessary to include the receiver's name?
No, it's not. Writing the designation of the person you are writing to should suffice.
Related Articles :